Concrete Driveway Installation & Replacement
In addition to quality built Amish garages, we also install & replace concrete driveways. If your existing driveway is cracked, heaved or simply isn't up to par, give us a call!
We Complete Every Step Carefully
At Platinum Garages & Electrical, precision and diligence are at the heart of every project. Our meticulous approach ensures that every detail, no matter how small, is addressed to perfection.
Let's get your new garage started today!
At Platinum Garages & Electrical, we combine state-of-the-art garage solutions with professional electrical services, ensuring you get a complete package for your home's needs.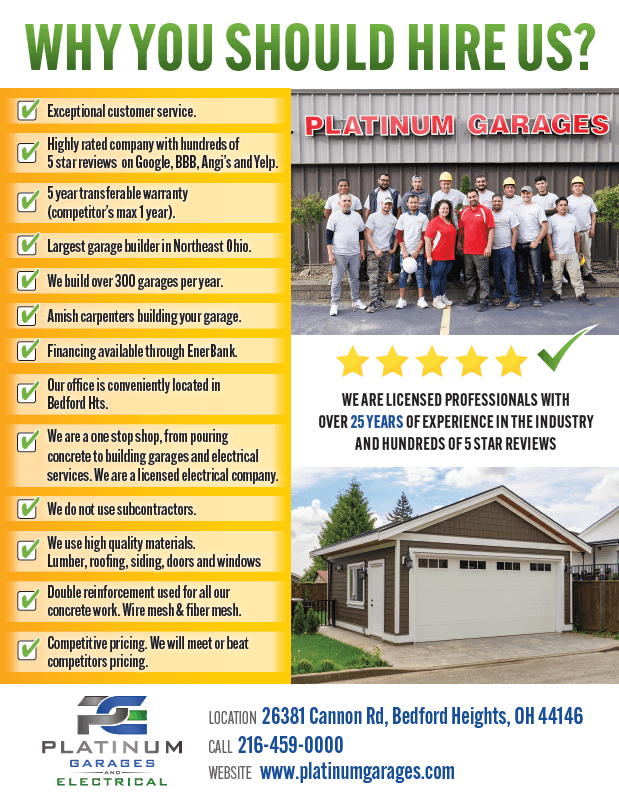 Tim Akhadov
Founder & Owner
Nilsa Carrero
Office Manager
Michael Wojtalik
Sales Manager
Brian Hengle
Structural Engineer & Architect
Joseph Golub
Licensed Master Electrician
Cheo Silverio
Crew Supervisor
positively vegan
2023-07-01
They were so professional, very quick and did a great job! Super accommodating and very thorough. Wonderful experience.
Nice solid garage built fast:) ty!
Platinum Garage was the right company to build my garage. They were quick, took care of everything and left the area clean when they were done. Highly recommend!
They did a professional job and was a pleasure to work with
Zucka Schilling
2023-06-05
If you are looking to get you garage done. I highly recommend Platinum Garage. Very professional and good quality service.
Platinum did an amazing job and was professional the entire time. I recommend this business
Angela Feliciano
2023-05-10
excellent!
They were great .
larry gutierrez
2023-05-04
Platinum Garage did a great job replacing my old garage that was beyond repair. Their team was great to work with making the process easy. Really good company resulting in a project that got done right and on time.
After receiving quotes from several companies, we chose Platinum to replace our garage and were extremely satisfied with the results! The project was on time and on budget. Any and all issues or questions were addressed promptly to our satisfaction. The crew and office staff were very courteous and timely in all communications. We would highly recommend Platinum.
Frequently Asked Questions
How long does it take to build a garage?
Every project is unique and every city has its own set of rules, but typically an average of 6-8 weeks out for much of the year. This includes the time it takes to receive building permits.
Does Platinum Garages & Electrical service my area?
We are pleased to serve from two office locations. Our main office is located in Bedford Heights, and serves a 50 mile radius in Cleveland. Our second office is based out of Sandusky Ohio, and serves a 50 mile radius in Sandusky.
Do I need permits for a new garage?
Usually when building any structure, you are required to obtain a zoning and building permit. We always recommend that you check with your local building department to find out what is required. Platinum Garages & Electrical will handle most permits required.
How do I know the estimate I received is accurate?
Once you receive your estimate via email, we'll schedule a site visit to make sure everything is covered and included for your project. You'll meet one of our team members in person to go over all the details.
Does Platinum Garages & Electrical offer financing?
We currently offer financing through Hearth & EnerBank USA. Please contact us for details.
What size garages do you build?
While we can tackle almost any project, our common sizes are 14x20, 20x20, 24x24 & 30x20.