Post Frame construction is sometimes referred to as a "pole barn". Instead of a traditional concrete foundation & footings, this construction method uses large pressure-treated beams set into the ground. Post Frame garages tend to be more economical for larger structures due to the exclusion of a traditional foundation. If you're interested in having a post frame garage built on your property, let us know!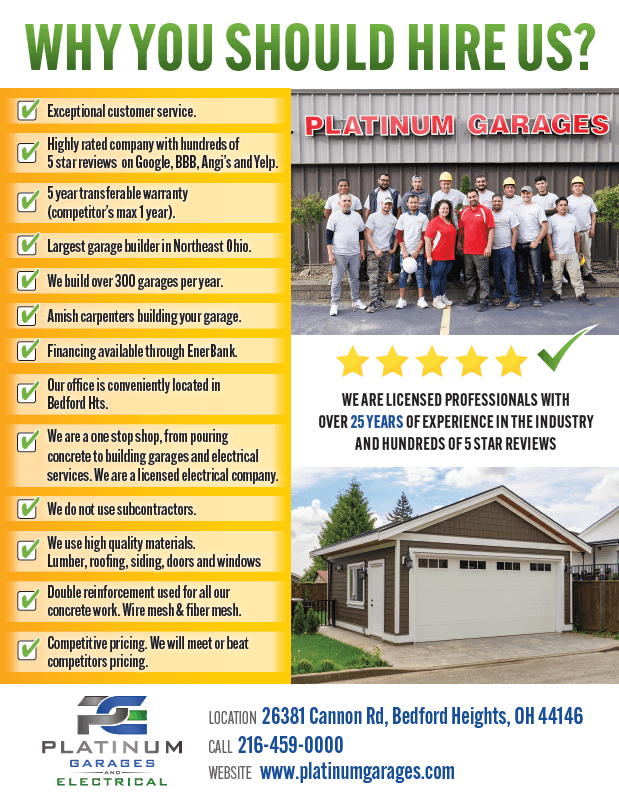 Tim Akhadov
Founder & Owner
Nilsa Carrero
Office Manager
Michael Wojtalik
Sales Manager
Brian Hengle
Structural Engineer & Architect
Joseph Golub
Licensed Master Electrician
Cheo Silverio
Crew Supervisor
We Complete Every Step Carefully
At Platinum Garages & Electrical, precision and diligence are at the heart of every project. Our meticulous approach ensures that every detail, no matter how small, is addressed to perfection.
positively vegan
2023-07-01
They were so professional, very quick and did a great job! Super accommodating and very thorough. Wonderful experience.
Nice solid garage built fast:) ty!
Platinum Garage was the right company to build my garage. They were quick, took care of everything and left the area clean when they were done. Highly recommend!
They did a professional job and was a pleasure to work with
Zucka Schilling
2023-06-05
If you are looking to get you garage done. I highly recommend Platinum Garage. Very professional and good quality service.
Platinum did an amazing job and was professional the entire time. I recommend this business
Angela Feliciano
2023-05-10
excellent!
They were great .
larry gutierrez
2023-05-04
Platinum Garage did a great job replacing my old garage that was beyond repair. Their team was great to work with making the process easy. Really good company resulting in a project that got done right and on time.
After receiving quotes from several companies, we chose Platinum to replace our garage and were extremely satisfied with the results! The project was on time and on budget. Any and all issues or questions were addressed promptly to our satisfaction. The crew and office staff were very courteous and timely in all communications. We would highly recommend Platinum.